JQuery Easy There is a really useful and well-done plugin for Joomla called jQuery Easy. You can find this free plugin in the Joomla Extensions Directory and it will help you fix the Javascript conflicts between the libraries. You should let the plugin load jQuery basic as well as jQuery UI. Take jQuery fixing to the next level and use the full power of the Joomla! Framework to create separate jQuery Easy configuration profiles. Fine-tune your jQuery requirements (including jQuery UI and Mobile) and only fix issues on pages that cause problems. And now, you can even limit the plugin's processing to the head area of your site pages!
5 reviews
Introduction
Take jQuery fixing to the next level and use the full power of the Joomla! framework to create separate jQuery Easy configuration profiles.
Fine-tune your jQuery requirements (including jQuery UI and Mobile) and only fix issues on pages that cause problems. And now, you can even limit the plugin's processing to the head areaPhotoshop website design. of your site pages! That will consume fewer server resources and definitely improve performance.
Tweak the regular expressions used throughout and share them in the forum!
Manage different templates (perfect to separate desktop and mobile websites), select menu items, user access or language to completely make jQuery Easy work for your website.
New: manage button and tooltip conflicts between Bootstrap and jQueryUI!
New: add/fix Bootstrap conflicts
New: migrate from jQuery Easy with ease
New: set different parameters on mobile and desktop
NEW: remove 'Chosen'
The jQuery Easy Profiles package contains a module and a plugin.
Enable the plugin to run jQuery Easy on your website. No changes are made until profiles (or module instances) are created.
Set a custom template position that will be used by the modules and use the report feature to see the plugin in action. Restrict plugin access to Super Users and test your settings on your production site, without any risk. The visitors of your site won't suspect a thing.
Cached
Create any number of profiles by using the module's framework and decide where the plugin will be active. Do finer tuning by targeting templates, components and/or using optional 'enable' and 'disable' parameters. Set the basic and expert parameters like it is already done in jQuery Easy.
More information at https://simplifyyourweb.com/downloads/jquery-easy-profiles
jQuery Easy Profiles
Version:
4.2.2
Developer:
Olivier Buisard
Last updated:
Apr 07 2021
3 weeks ago
Date added: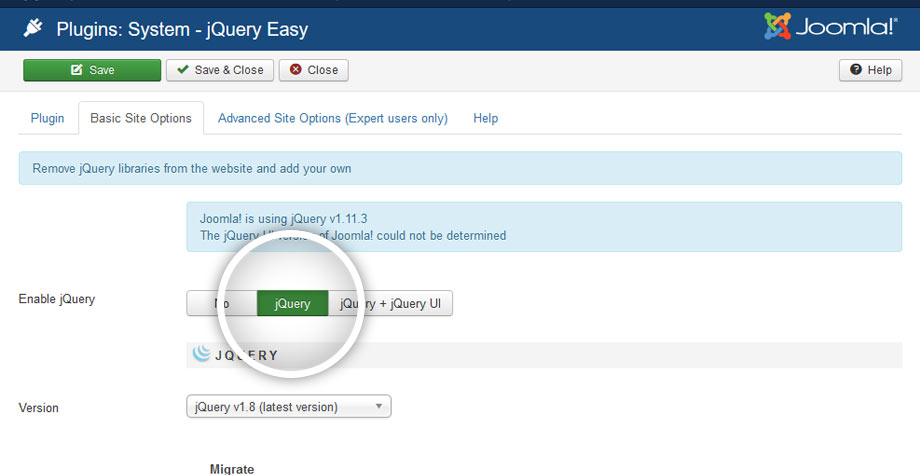 Nov 19 2014
License:
GPLv2 or later
Type:
Paid download
Related extension :
jQuery Easy
Includes:
Compatibility:
Download
Uses Joomla! Update System

Write a review
By Olivier Buisard
April 17, 2021
70
font size

decrease font size

increase font size
This plugin is meant to help clean and resolve front and back end issues when using instances of jQuery alongside the Mootools libraries.
WHAT IT DOES OUT-OF-THE BOX
calls jQuery and jQuery UI libraries from the Google CDN (with or without protocol) - but you can do it locally too,
places jQuery libraries after MooTools calls for perfect compatibility,
adds the noConflict() code alongside the jQuery library call,
strips out extra jQuery and jQuery UI libraries, including the noConflict() calls added by other modules or plugins,
lets you choose jQuery UI basic styling or custom theme.
WHAT YOU CAN TWEAK
disable MooTools libraries tentatively in the frontend,
enable or disable the plugin in specific portions of the site, from template to single page,
use reporting to get feedback on what the plugin engine has done,
add or remove scripts and stylesheets,
strip blank lines left by the modifications made to the page,
prevent some libraries to be stripped out,
modify the way the engine works by default (do not add or remove noConflict() code..),
..
Try the new jQuery Easy Profiles for Joomla! 3+ that allows multiple configurations to work seamlessly for different parts of a site. Speed up your pages and limit your server load. More information on the developer's website.
Additional Info
Remove Duplicate JQuery Files In Joomla With JQuery Easy ..
Name Provider:

Olivier Buisard

Website Provider:

https://simplifyyourweb.com/

Type of Distribution:

Free

System:

Joomla 3.x

Version extension:

4.2.2

Provider page download:

Downloads page
Download attachments: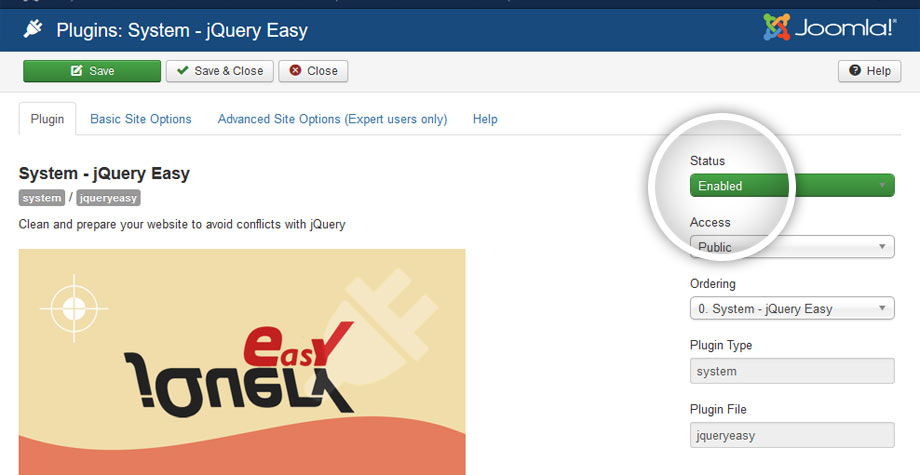 plg_system_jqueryeasy_v422.zip

(13 Downloads)
Last modified on Saturday, 17 April 2021 18:07
Related items
JQuery Easy - Templatki.com
Breezing Forms - Joomla forms extension
JSN Campus - Joomla education template

By JoomlaShine

SP Simple Portfolio Updated With PHP 8 Support and Revamped Routing System
Plugins category